INTERIOR DESIGN AND DECOR STYLES
18th January 2018
As you may or may not know, I custom make photos on wood, and I also have a small, however growing, collection of Wooden Wall Art and other Decor Accessories.
I have previously categorised my own product to one or a just few decor styles, but over the years and as I've been making my Photo Prints on Wood with different photographs, different wood stains, I myself have realised that it doesn't quite fit just one or even just a few styles. It suits most decor and interior design styles, and if anything compliments these styles with unique talking pieces and brings individuality to a style or theme.
I also describe my product as rustic, and it may be assumed that means a country style, however my interpretation of rustic is that it is made in a plain and simple fashion, that it's homely and modest.
I was not all that familiar with just how many styles there were, I kind of just like what I like and go with it, which turns out to be Bohemian Style. So I thought I'd give you a short and sweet description on some different decor styles as I'm learning too.

CONTEMPORARY
Here and now with no real adherence to one style in particular

Inviting Textures

Soft

MINIMALIST
Neutral and airy colour palettes

Functionality and clean lines

Simple and streamlined
BOHEMIAN
Anything goes as long as you love it

Cool collections of bits and pieces from travels or here and there

Interesting talking pieces with story's behind them

Cool and relaxed

RUSTIC
Natural Inspirations

Raw and unfinished elements

Wood, Stone, Leather, Glass

Simplified shapes

Erganomic

Plain, Simple, Modest
Inspired by a warehouse or an urban loft

Unfinished rawness, brick, duct work, wood

Abstract Art or photography to add a dash of colour

Neutral colour scheme derived from primary materials such as wood and or metals

MID-CENTURY MODERN
Pared down

Natural and organic shapes
TRADITIONAL

Abundance of accessories

European influences

Wood

Rich colour pallets

Variety of textures

COUNTRY / FRENCH COUNTRY
Warm

Farmhouse inspired

Ornamental wood furnishings

Distressed wood or Raw wood

Antiques

Soft colour pallet

Exposed beams

SHABBY CHIC
Distressed metal

Distresed wood

Distressed leather

Light colour pallets, whites, creams

Raw materials

Wood with wormholes, prominent knots

Cosy
COASTAL/HAMPTONS
Light airy colour pallets

Cool neutral shades paired with blues and or greens

Wood

White painted wood

Accessories inspired by beach or ocean

Relaxed
See
Gallery
for inspiration on what you can create to suit your design & decor style
---
ANNIVERSARY GIFTS
10th January 2018
Another Year done and dusted and a whole new year of beautiful milestones to celebrate.

Might be your first or your sixtieth, either way I'm sure you want to make it special. So I put together a list of Traditional and Modern Gift Themes for you. Hope it helps.

A Custom Made Jellyfish Grove Plank is perfect for Fifth and Sixth Year Anniversary's, as Wood is the Traditional Theme for a Fifth as well as the Modern Theme for your Sixth. For these Milestones you can create something special for your loved one with your favourite wedding day photo and or any favourite photo print on wood. Don't Frame it, Ingrain it.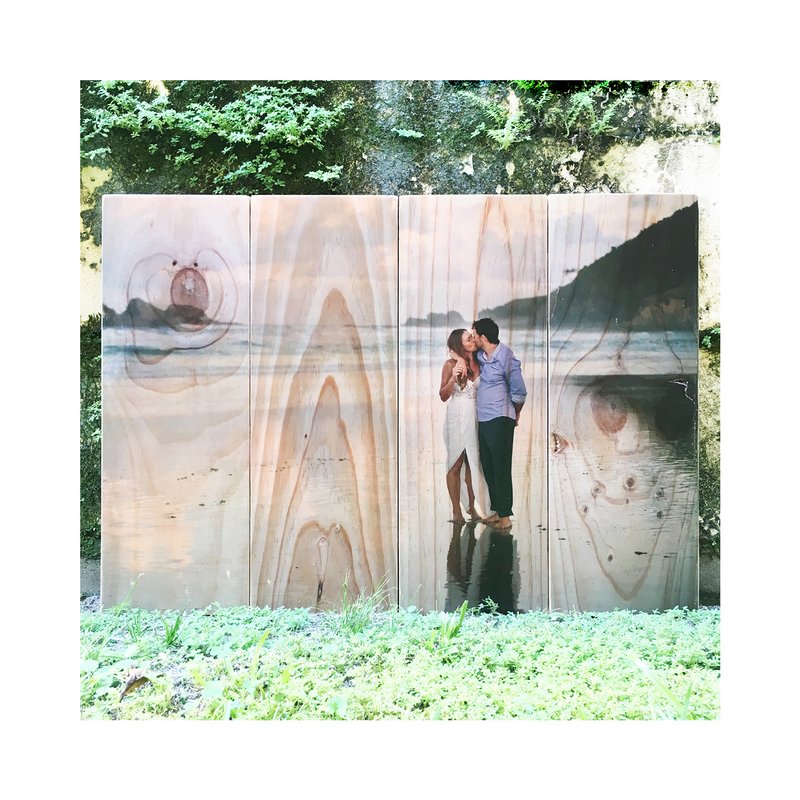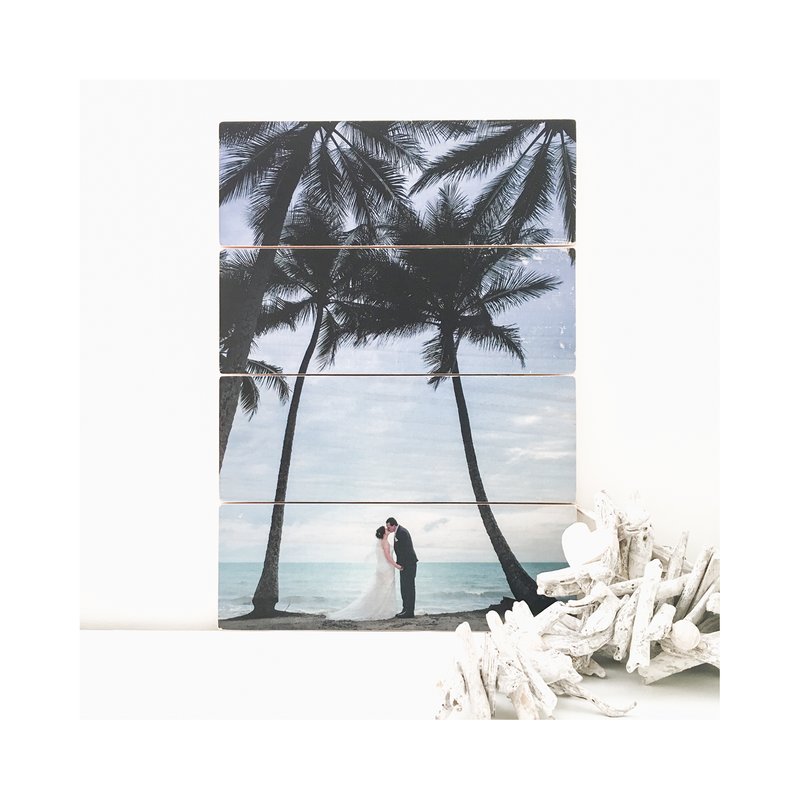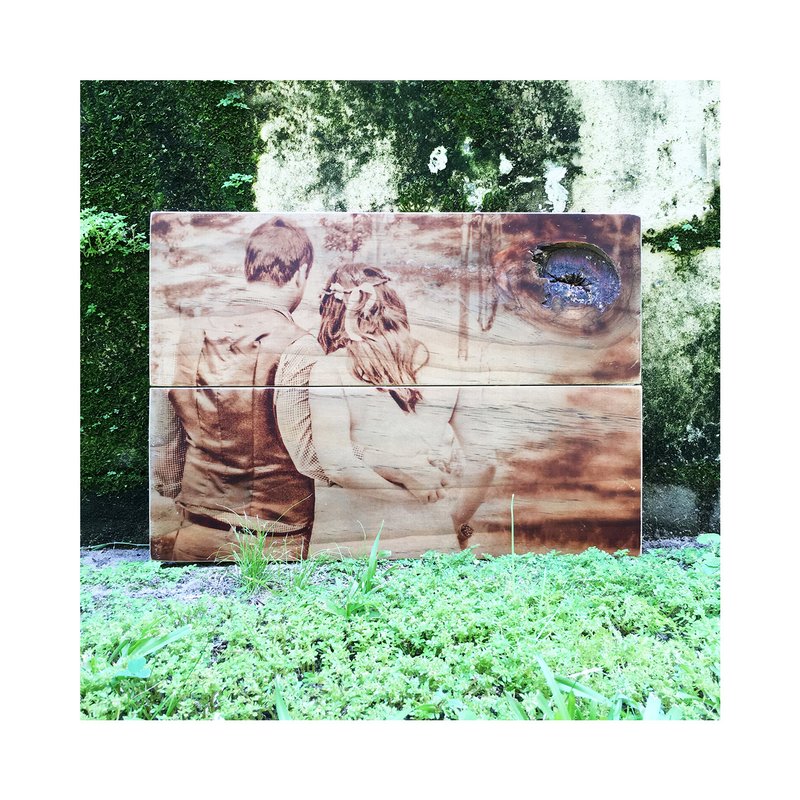 First Year Anniversary Gifts - 1st
Traditional: Paper
Modern: Clocks
Flower Gifts: Carnation
Second Anniversary Gifts - 2nd
Traditional: Cotton
Modern: China
Flower Gifts: Lily of the Valley
Third Anniversary Gifts - 3rd
Traditional: Leather
Modern: Crystal/Glass
Flower Gifts: Sunflower
Fourth Anniversary Gifts - 4th
Traditional: Fruit/Flowers
Modern: Appliances
Flower Gifts: Hydrangea
Fifth Anniversary Gifts - 5th
Traditional: Wood
Modern: Silverware
Flower Gifts: Daisy
Sixth Anniversary Gifts - 6th
Traditional: Candy/Iron
Modern: Wood
Flower Gifts: Calla
Seventh Anniversary Gifts - 7th
Traditional: Wool/Copper
Modern: Desk Sets
Flower Gifts: Freesia
Eighth Anniversary Gifts - 8th
Traditional: Pottery/Bronze
Modern: Linens/Lace
Flower Gifts: Lilac
Ninth Anniversary Gifts - 9th
Traditional: Willow/Pottery
Modern: Leather
Flower Gifts: Bird of Paradise
Tenth Anniversary Gifts - 10th
Traditional: Tin/Aluminium
Modern: Diamond Jewellery
Flower Gifts: Daffodil
Eleventh Anniversary Gifts - 11th
Traditional: Steel
Modern: Fashion Jewelry
Flower Gifts: Tulip
Twelfth Anniversary Gifts - 12th
Traditional: Silk/Linen
Modern: Pearls
Flower Gifts: Peony
Thirteenth Anniversary Gifts - 13th
Traditional: Lace
Modern: Textiles
Flower Gifts: Chrysanthemum
Fourteenth Anniversary Gifts - 14th
Traditional: Gold Jewellery
Modern: Gold Jewellery
Flower Gifts: Dahlia
Fifteenth Anniversary Gifts - 15th
Traditional: Crystal
Modern: Watches
Flower Gifts: Rose
Sixteenth Anniversary Gifts - 16th
Theme: Coffee/Tea
Seventeenth Anniversary Gifts - 17th
Theme: Wine/Spirits
Eighteenth Anniversary Gifts - 18th
Theme: Appliances
Nineteenth Anniversary Gifts - 19th
Theme: Jade
Flower Gifts: Sweetpea
Twentieth Anniversary Gifts - 20th
Traditional: China
Modern: Platinum
Flower Gifts: Aster
Twenty-first Anniversary Gifts - 21st
Theme: Fire
Twenty-second Anniversary Gifts - 22nd
Theme: Water
Twenty-third Anniversary Gifts - 23rd
Theme: Air
Twenty-fourth Anniversary Gifts - 24th
Theme: Stone
Twenty-fifth Anniversary Gifts - 25th
Traditional: Silver
Modern: Silver
Flower Gifts: Iris
Twenty-sixth Anniversary Gifts - 26th
Theme: Art
Twenty-seventh Anniversary Gifts - 27th
Theme: Music
Twenty-eighth Anniversary Gifts - 28th
Theme: Linens
Flower Gifts: Orchid
Twenty-ninth Anniversary Gifts - 29th
Theme: Tools
Thirtieth Anniversary Gifts - 30th
Traditional: Pearl
Modern: Diamond
Flower Gifts: Lily
Thirty-first Anniversary Gifts - 31st
Theme: Travel/Tourism
Thirty-second Anniversary Gifts - 32nd
Theme: Bronze
Thirty-third Anniversary Gifts - 33rd
Theme: Iron
Thirty-fourth Anniversary Gifts - 34th
Theme: Food
Thirty-fifth Anniversary Gifts - 35th
Traditional: Coral
Modern: Jade
Thirty-sixth Anniversary Gifts - 36th
Theme: Antiques
Thirty-seventh Anniversary Gifts - 37th
Theme: Books
Thirty-eighth Anniversary Gifts - 38th
Theme: Luck
Thirty-ninth Anniversary Gifts - 39th
Theme: Laughter
Fortieth Anniversary Gifts - 40th
Traditional: Ruby
Modern: Ruby
Flower Gifts: Gladiolus
Forty-first Anniversary Gifts - 41st
Theme: Office/Desk
Forty-second Anniversary Gifts - 42nd
Theme: Clocks/Watches
Forty-third Anniversary Gifts - 43rd
Theme: Entertainment
Forty-fourth Anniversary Gifts - 44th
Theme: Electronics
Forty-fifth Anniversary Gifts - 45th
Traditional: Sapphire
Modern: Sapphire
Forty-sixth Anniversary Gifts - 46th
Theme: Games
Forty-seventh Anniversary Gifts - 47th
Theme: Garden/Plants
Forty-eighth Anniversary Gifts - 48th
Theme: Home Improvement
Forty-ninth Anniversary Gifts - 49th
Theme: Copper
Fiftieth Anniversary Gifts - 50th
Traditional: Gold
Modern: Gold
Flower Gifts: Yellow Rose / Violet
Fifty-first Anniversary Gifts - 51st
Theme: Photos/Cameras
Fifty-second Anniversary Gifts - 52nd
Theme: Bath/Spa
Fifty-third Anniversary Gifts - 53rd
Theme: Plastic
Fifty-fourth Anniversary Gifts - 54th
Theme: Glass
Fifty-fifth Anniversary Gifts - 55th
Theme: Emerald
Fifty-sixth Anniversary Gifts - 56th
Theme: Day
Fifty-seventh Anniversary Gifts - 57th
Theme: Night
Fifty-eighth Anniversary Gifts - 58th
Theme: Faith and Hope
Fifty-ninth Anniversary Gifts - 59th
Theme: Charity
Sixtieth Anniversary Gifts - 60th
Traditional: Diamond
Modern: Diamond
---
PROPAGATING SUCCULENTS
1st September 2017

Quick and Easy Steps to Propagate Succulents
Firstly all I did was gently remove a few leaves from the mummy Succulent. Make sure they are not blemished and take the leaf off at the stem keeping the base of the leaf intact.Lay the leaves in a tray for a few days until the ends have calloused. Put them in an airy spot where light is available but not in the direct sun.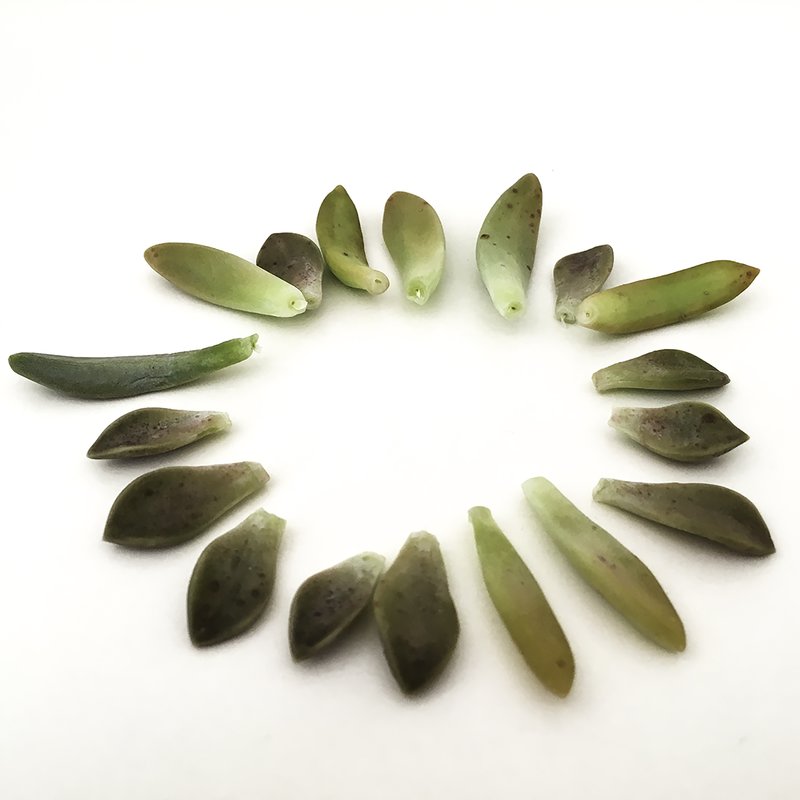 Once the raw ends have calloused, lay them on top of well drained soil in a shallow tray that is suitable for succulents. (I just used whatever soil I had out back and mixed it with a little gravel). Mist them daily. Again keep them in indirect sunlight.




Wait... Within few weeks you'll notice a tiny super cute new little plant begin to grow. Not all of mine got to this stage. But 2 out of 3 or 4 maybe 5 ain't bad. Haha. Water your plant minimally now (perfect because ain't nobody got time for that) until roots begin to show.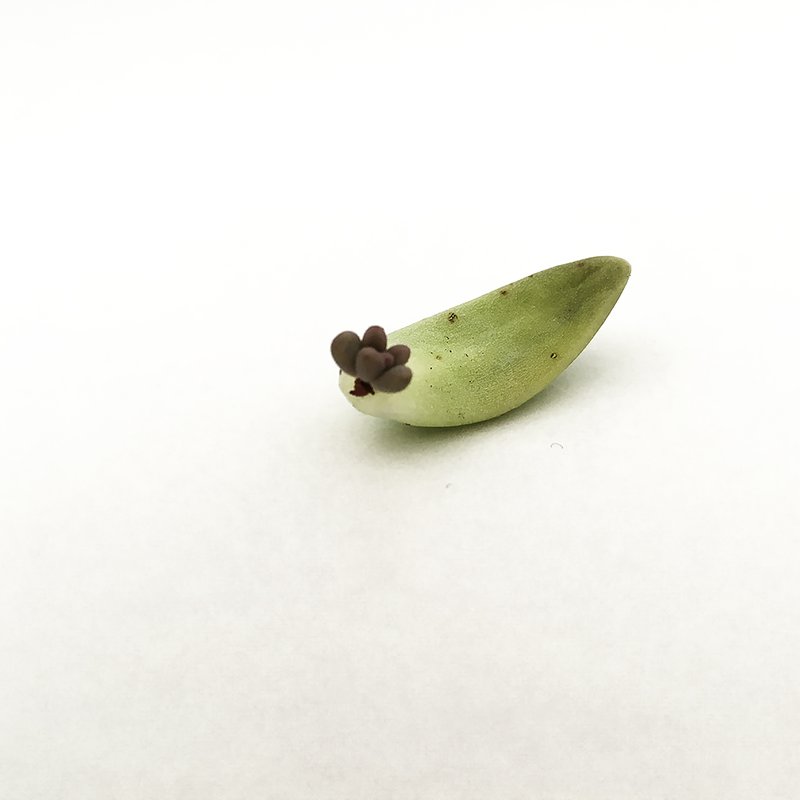 When roots appear, the original leaf will start to wither. Remove it gently (hard to do with my man hands) and then let your new baby take root itself. (if you notice your baby starting to dry out, gently and lightly cover the roots with soil).




Once rooted, replant your new mini Succulent as you please.

I replanted mine in egg cartons and placed them in my Candle Holders that you can find in my
Interior Decor Shop Section
and I absolutely love the look. The egg cartons are also perfect to start off seedlings. Definitely a fun activity for the whole family, my kids loved getting their little hands dirty and learning in the process. Fun and educational.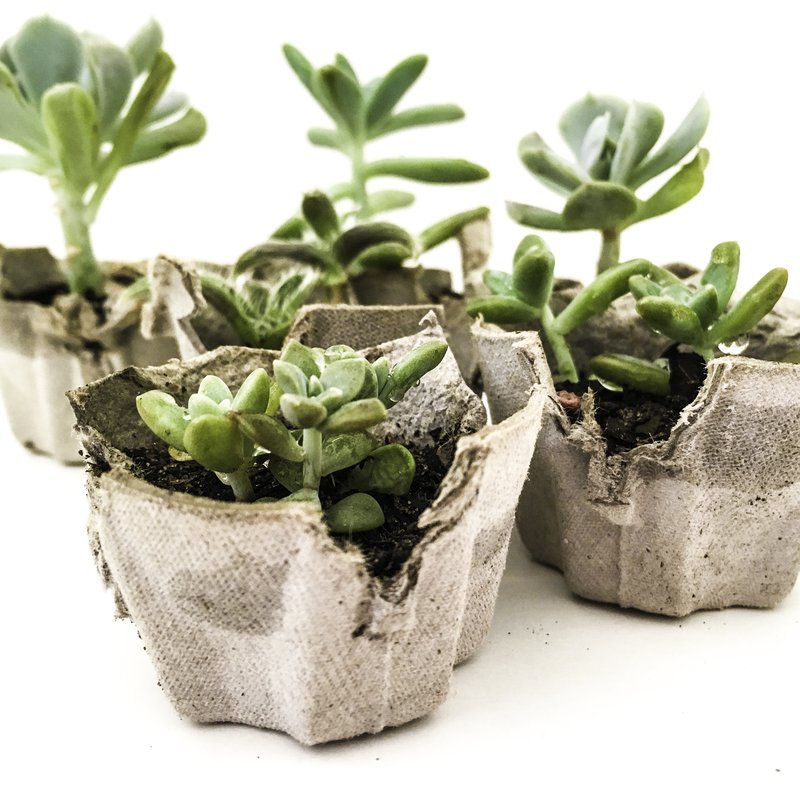 Succulents take a while to get big and established but when they do get to big for your egg carton and or Jellyfish Grove
Candle Holders
, just replant it, egg carton and all! Make sure you use the paperboard egg cartons that are recyclable and biodegradable. Greening!